Saturday, February 14, 2009 in Napa, California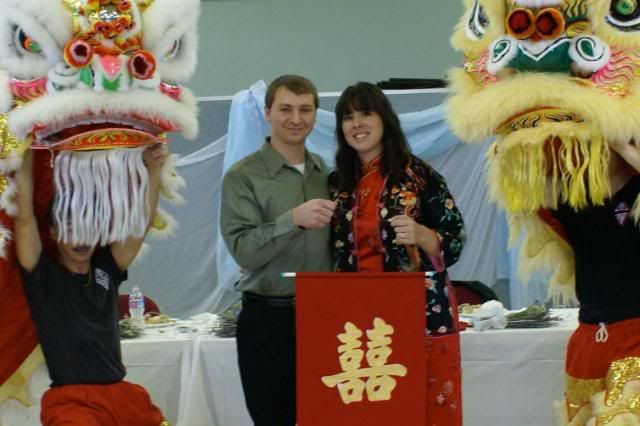 Saturday morning started out a little chilly and a little rainy. Kyle and I slept in a bit longer than everyone else, since we were being spoiled by not having to help everyone get ready. By the time we were really up and about, most everyone had gone to the church, since our reception was starting at one and we woke up at 10AM. This would normally have been fine, but unfortunately at approximately 10:32AM, I desperately needed my mother.
My Uncle Denis had bought me a red silk dress at the shop in China at Epcot, so that I would have something to wear to the wedding. One of my Aunties loaned me a traditional jacket to go over the dress and therefore I should have been all set. Unfortunately, when I got into the dress, I realized that I hadn't really given the dress enough thought and therefore hadn't realized that the dress had slits on each side of it and those slits went way, way up!
So, I fussed and stressed and tried to figure out a way to show less leg. The clock ticked closer and closer to one o'clock and I didn't come up with anything, so finally I had to suck it up and get in the car. I decided that I just wouldn't walk that much and I'd keep my hands at my sides, covering the tops of the slits. In the end, I didn't really need to worry about it. The slits were indeed really high, but my dress was so wrinkled from sitting in the car for the five-minute ride to the church that you didn't even notice the wrinkles. Guess I should have done a more thorough run-through…
When we got to the church, everything was fabulous. My Aunt Darlene had gone over all the details with a fine-tooth comb, so there were fun little touches all over the place. The first thing that we noticed was the cake. My Aunt Carole had made us a beautiful cake in the shape of the castle and the cake was on a table by itself, surrounded by bundles of lavender (my favorite!), confetti, and stuffed animals of our favorite Disney characters, Stitch and Boo.
On another table was our guest book, our reception books (with photos from our wedding), and a candy buffet featuring the best Valentines Day goodies. The Valentines theme continued on the tables, which were sprinkled with rose petals and held either bunches of red roses with stuffed Mickey and Minnie on top or heart-themed candleholders. Each of the centerpieces was set on a mirrored charger, which added to the glimmer of everything. At each centerpiece, my aunt put a small tent card bearing a quote about love, marriage, or family (as well as a note to leave the centerpieces at the end of the reception).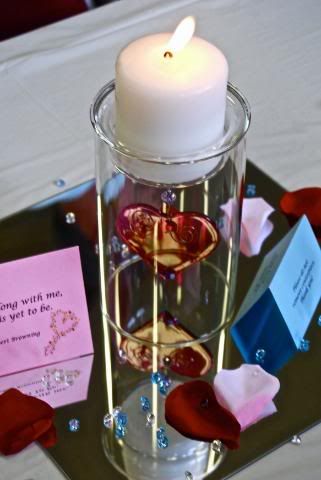 There were also swathes of fabric in our wedding colors and Disney balloons greeting people as they came into the reception hall. The tables were arranged so that there was a large space in the center for people to mingle and there was a head table up front which held lavender, candles, mirrors, and an incredible Disney wedding snowglobe that my aunt and uncle got for us. The snowglobe has all of the Disney princesses and their princes dancing around in their wedding clothes and it's completely gorgeous!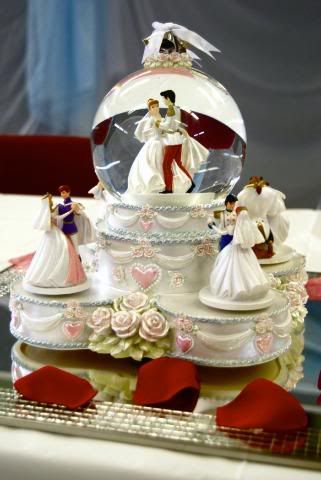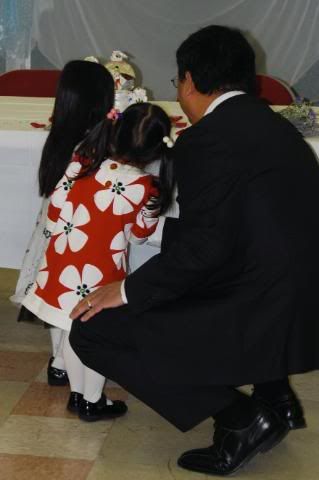 As Kyle and I wandered around and took it all in, people began to show up. Most of my family was busy in the kitchen, getting all the food together, so I did my best to greet everyone. Confession: I can't tell you the names of all of my relatives. 2nd confession: I always forget who is married to who and often forget if I've met someone before or if they're a new addition to the family. Yes, I know. I'm a terrible person. It's just that I never see them and when I do see them, I see them all at once! It's really hard to tell people apart when they come and go in groups of fifty or sixty!!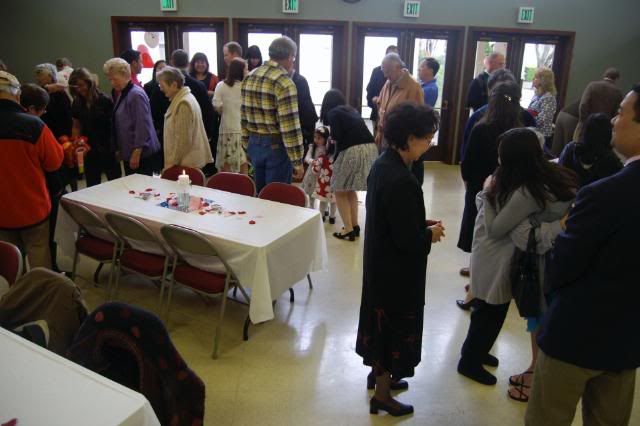 Me with my little brother and little sisters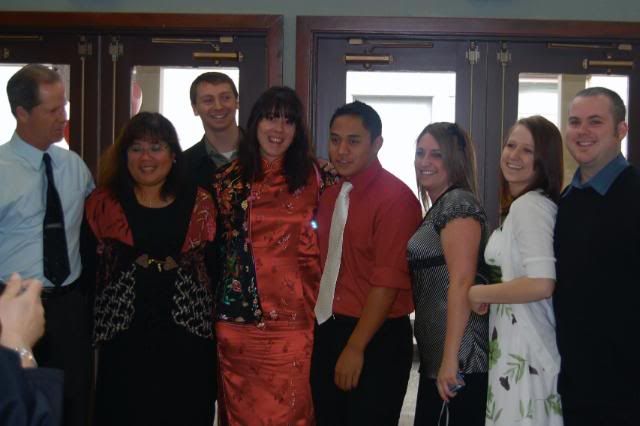 My stepdad, my mom, my husband, me, my little brother, my little sister,
my other little sister, and my future-brother-in-law

There were some people that I never see who came, which was nice. This included some relatives on my dad's side that I honestly have not seen in the last ten years or so. I also saw some people that I remembered from early, early childhood and Kyle had a friend from Ohio State come all the way up from Los Angeles just to see us at the reception.
Once everyone was pretty much there, my Aunt Carole welcomed everyone and indicated that they should sit down so the reception could begin. Our first surprise was that they had hired lion dancers to come to the reception and we had the traditional lion dance for weddings, which included two lions!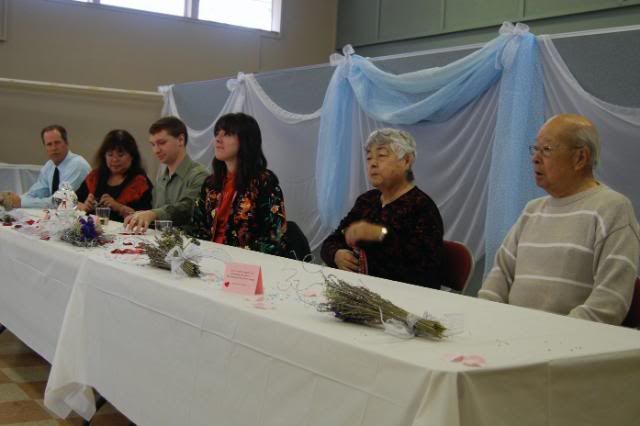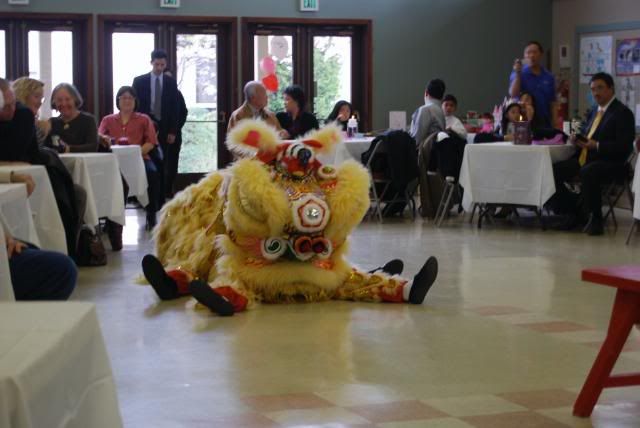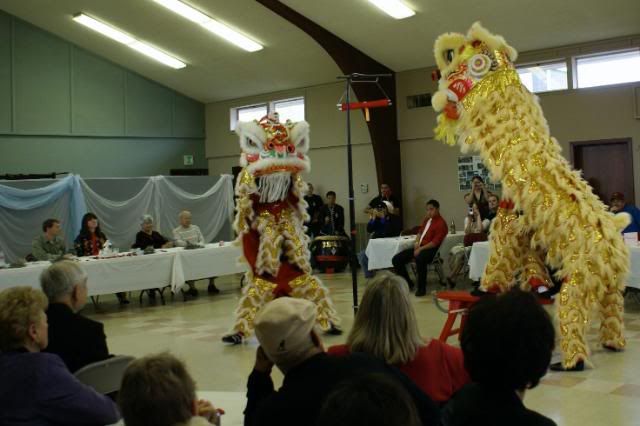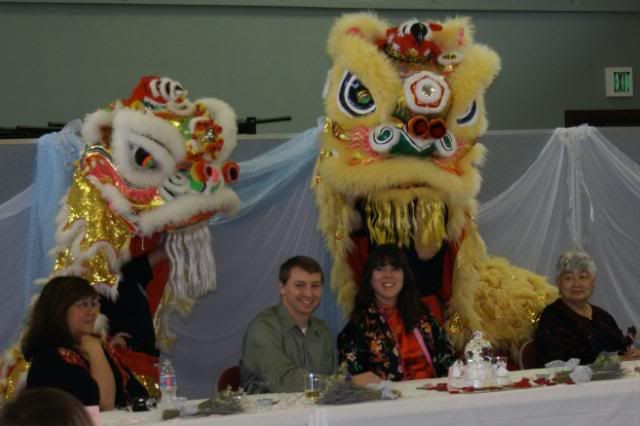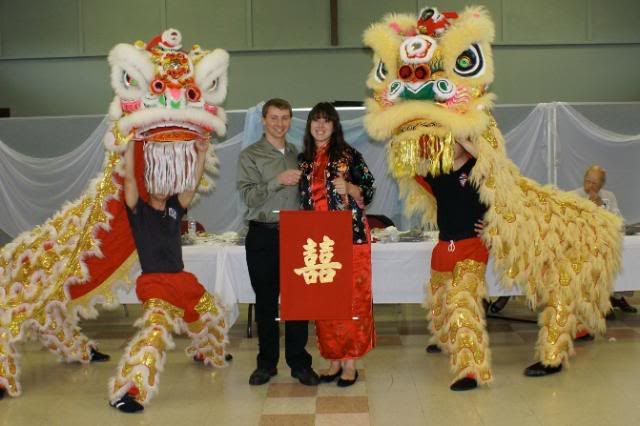 The last time Kyle was in Napa was for my grandpa's 80th birthday party in 2006 and we had a lion dance then as well, so I think Kyle may be under the impression that whenever my family gets together there's a lion dance. On the contrary, lion dances are a big deal and they are saved for truly special occasions. We were very lucky to have them at our reception!
After the lion dance, Kyle and I started the buffet line. You wouldn't believe how much food we had to eat or how amazing it all was! Kyle really liked the dim sum, but I'm a sucker for the barbecued pork. As part of the traditional celebratory meal, we had an entire pig pit roasted and chopped up. Mmmm…it actually doesn't get any better than that.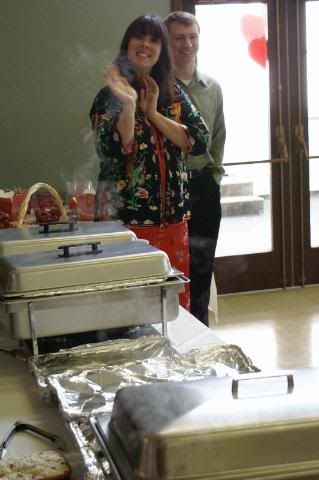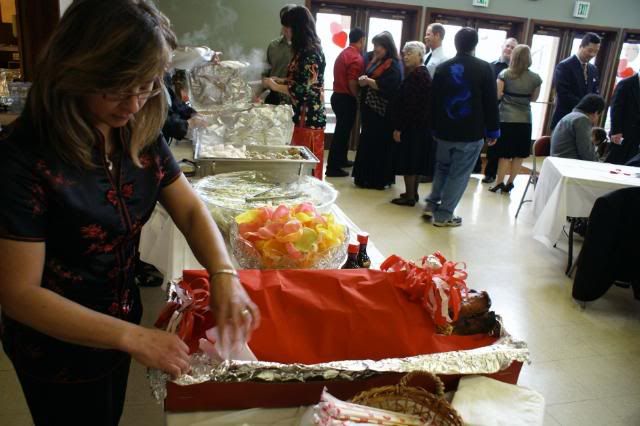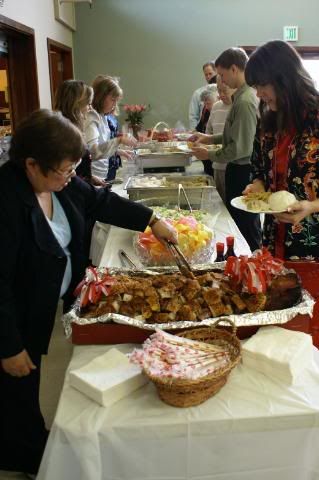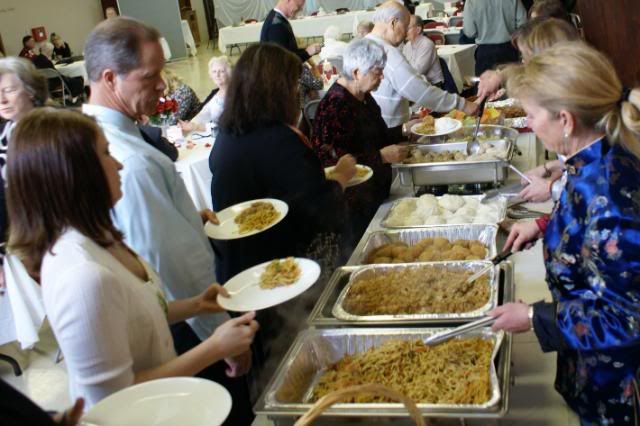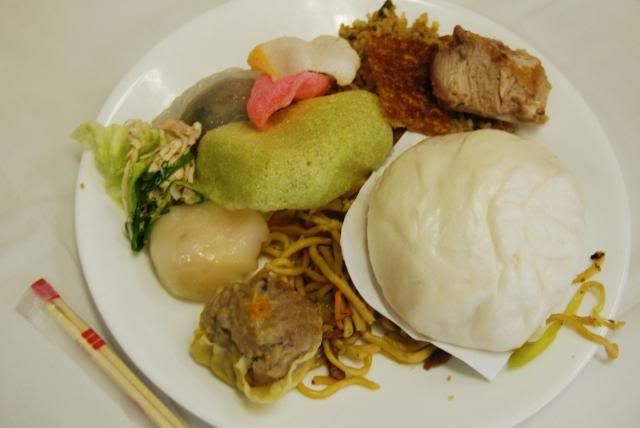 We ate and chatted and ate some more. People came up to visit with us and we had a chance to really talk to some people that had been lost in the rush earlier.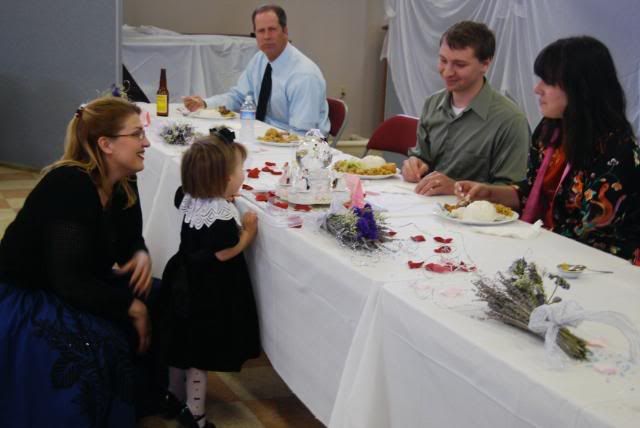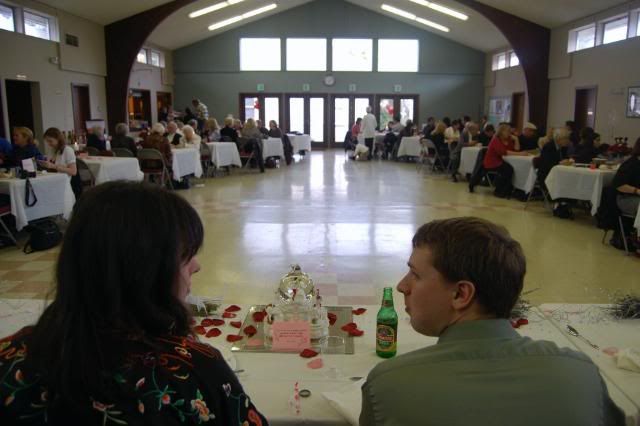 My aunt running everything from the kitchen.
Following dinner, my family rolled out an incredible buffet of homemade desserts, which included pink cookies in the shape of Mickey heads, strawberry shortcakes (Kyle's favorite), pots of chocolate mousse (my favorite), and fresh fruit.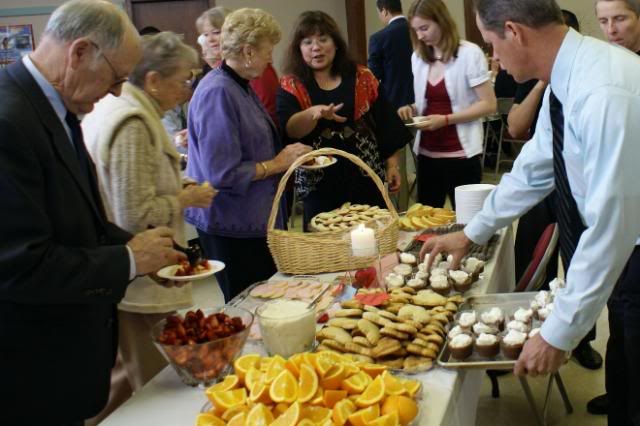 During dessert, Randy and Casey passed out favors to everyone. Each guest got glass coasters with the word "love" written in Chinese on them. My aunt seriously went all out!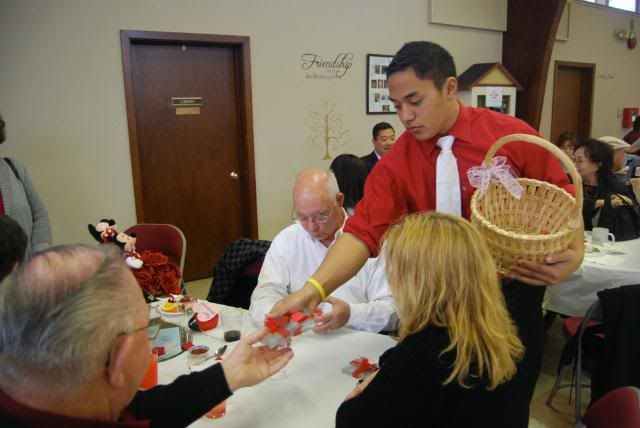 Once we were finished with dessert, it was time for the tea ceremony. I might have mentioned earlier that we were having a tea ceremony. It's supposed to be a way to honor your parents and extended relatives, but I think it's secretly a way for people to give you money right and left.
The tea ceremony has a handful of traditions. The first is that the bride and groom always give and take the teacups using two hands. You don't want to hand someone a teacup using only one hand because it's a sign of disrespect. The second tradition is that as you hand someone their tea, you say "yum cha", which means "drink tea" in Cantonese. The people drink the tea, hand you back the cup, and then give you licee, which are small red paper envelopes that contain some form of money.
There are actually much, much more traditional ways to do a tea ceremony, but this is the version that Kyle and I did. We walked around while people were finishing their dessert and we served them tea and they gave us money.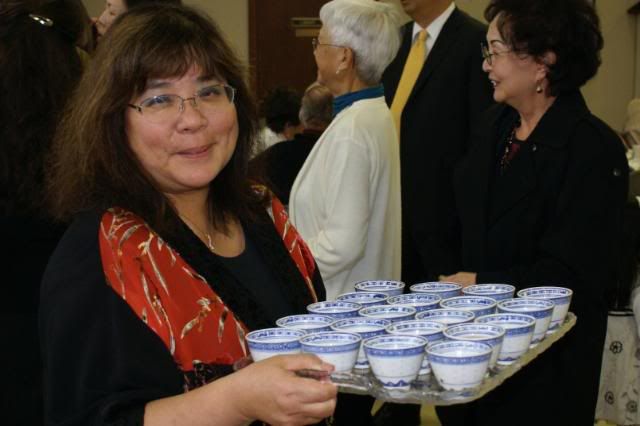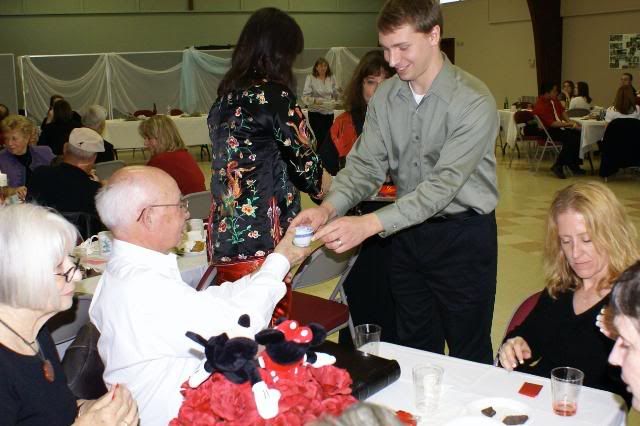 Like I said, it's supposed to be a sign of respect and honor, but it sort of felt like we were sneaking in a way to get money from people. Kyle did great with it. He always had two hands on the tea cups and he never forgot to say "yum cha". I love that he isn't weirded out by my family's traditions…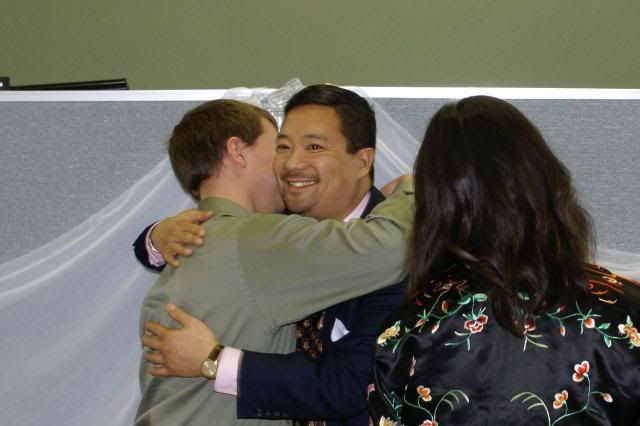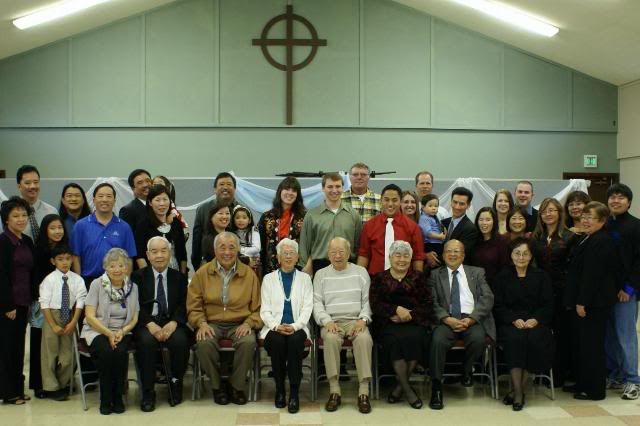 My Aunt Carole with her little lion
The Quan family
After the tea ceremony, the reception dissolved into chatting and 2nd dessert as people started to wander out. After a while, it was just a small group of die-hard receptioners, which was fine because we all had stuffed tummies and we were partied out. Kyle had a chance to catch up with Melissa, the friend that had driven up from L.A., and Randy turned up the stereo and gave a few impromtu dance lessons.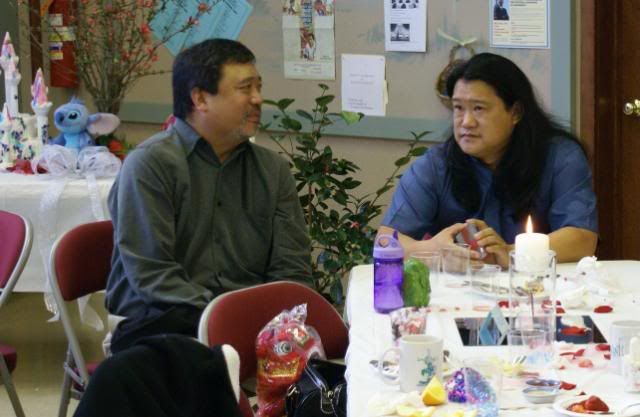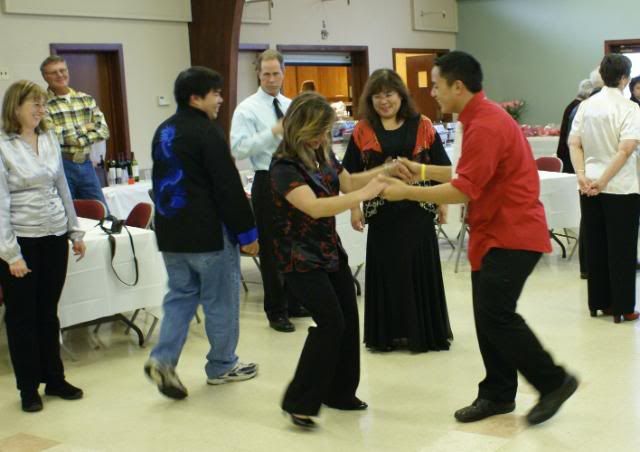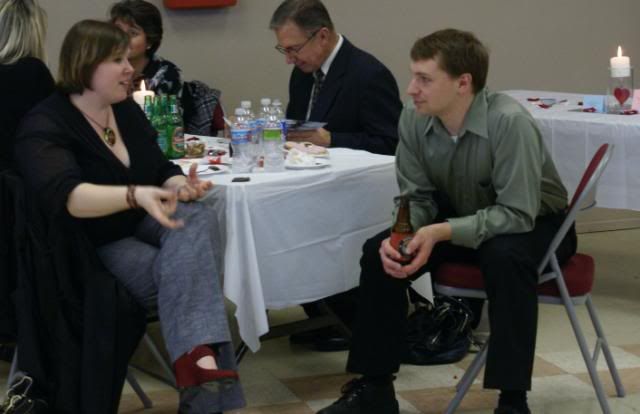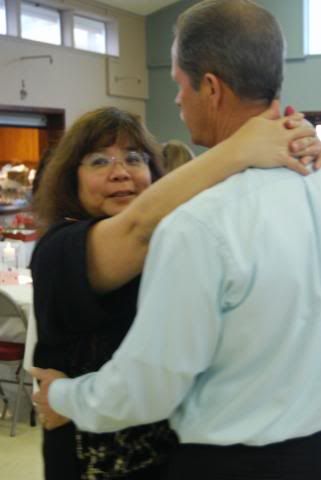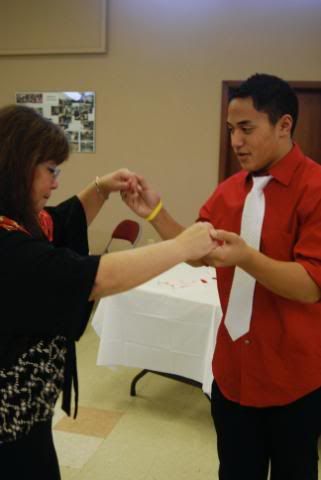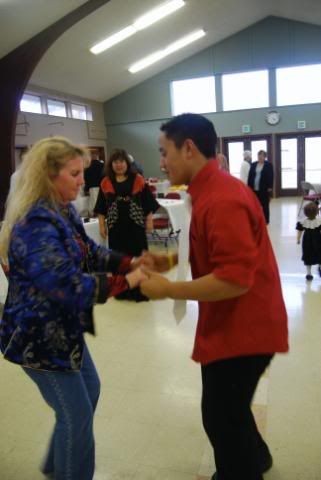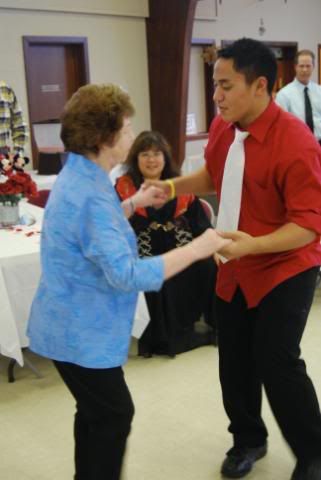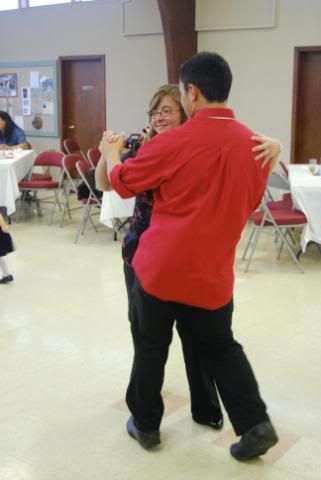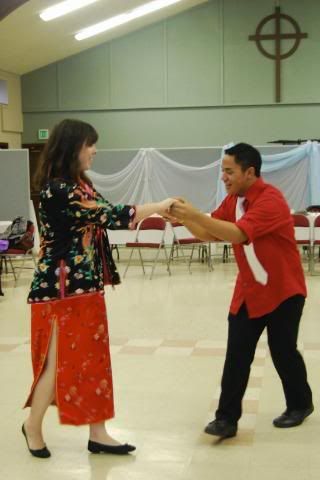 We actually had planned on having dancing, but without a D.J. there was just no way to lead everyone onto the dance floor. This was also true for our Ohio reception, which leads me to think that having an iPod instead of a D.J. at our WDW reception would have been pretty disastrous and definitely not worth the money we would have saved. The home receptions were low key enough that they were lovely without dancing, but the WDW reception really needed that dance floor to be packed.
Kyle and I snuck in some slow dances as everyone cleaned up around us (we're spoiled rotten) and I admit that every time I started to feel slightly less hungry, I grabbed another piece of dim sum. Once everything was packed up we all headed back to grandma's house, munched on leftovers, drank the leftover wine, and watched the slideshow of pictures that Scott had taken at the reception.
Perfect ending to the perfect day…