Day Three – Part One (Monday)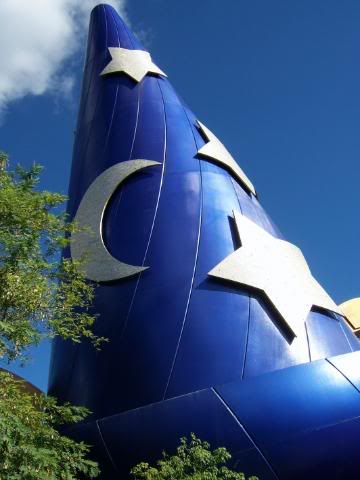 On Monday morning we opened Disney's Hollywood Studios. The initial plan was to meet at DHS as a big group, but when push came to shove only Aunt Carole, J.W., Kyle, and I made it to the park opening. The rest of the group caught up with us after breakfast. To be fair, I'm not a huge fan of opening parks in groups of 6+ because people are always so pushy and rushed in the morning. My family doesn't really do well in pushy and rushed (wheelchairs and all) so that early morning bottleneck run through DHS's main street would have been really annoying.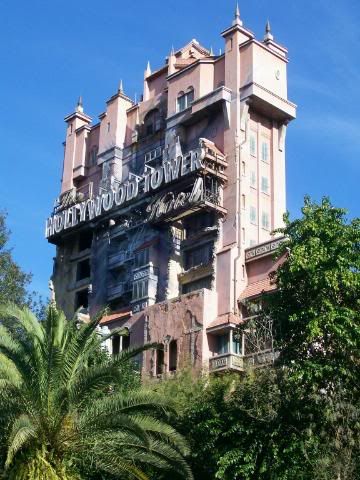 As soon as we got inside the gates, Kyle took our four tickets and ran back to Toy Story Mania to get fastpasses. We learned our lesson during our honeymoon when we tried to get fastpasses for Toy Story at 10 AM, only to learn that they had sold out for the day. In the meantime, J.W., Aunt Carole, and I were able to walk onto Tower of Terror with only a ten minute wait. I adore TOT. It might be my favorite ride ever, although I have to admit that a lot depends on the people you get stuck with…like teenagers who yell just to yell or screaming/hysterical children who have been drug onto the ride by parents insisting that they're "going to have a lot of fun."
This ride in particular was really good. They change up the drop patterns on the ride all the time and since I've ridden it easily more than 50 times, I've kind of been through it all. This one sucked my breath out, though, when it went straight up instead of dropping, paused, went straight up some more, and then sucked us all the way down. I was easily in the air for 30 seconds, butt off the seat, floating up against the pull of the seat belt. Heaven.
By the time we got off TOT (love it!), Kyle had almost made it back and he had his brother (Justin) and brother's girlfriend (Tracy) in tow, so we waited for them to ride Rockin' Roller Coaster. I have to admit, it's actually my favorite first-ride-of-the-day ride. I can think of four or five times when I went to MGM by myself as a CP so that I could start the day by riding RRC before I had to go to work. Kyle doesn't share my enthusiasm for the coaster as a substitute for morning coffee, but since it doesn't make him sick like teacups or Mission Space, he humors me. Aunt Carole and J.W. were all up for it and loved it…until Aunt Carole about toppled over while getting out of the ride. Flipping upside-down before 9:30 AM tends to play tricks on your inner balance.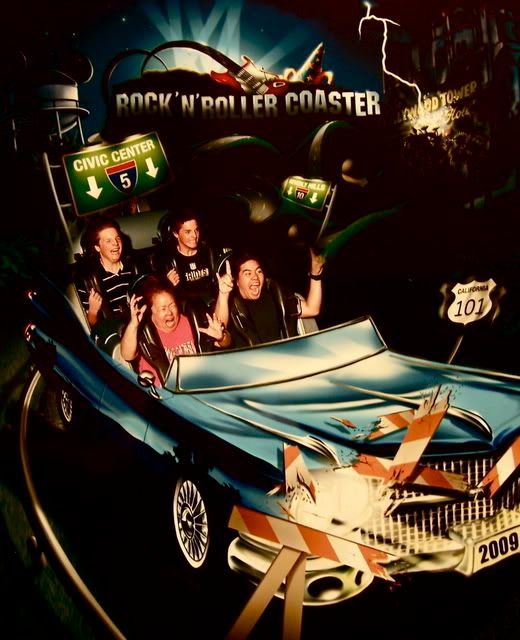 The rest of my family finally got there and were waiting for us when we got off the ride. My grandparents and my Aunt Darlene and Uncle Denis don't do coasters or rides that spin or rides that drop (or really anything that involves motion) so the group split up with part of the fam going off to watch the Beauty and the Beast stage show and the rest of us going to ride Tower of Terror and the Rockin' Roller Coaster. I had been talking these rides up to my little brother and my mom ever since we'd worked at WDW in 2002, so I was beyond excited to get them on. As I thought, they loved both of them. Photo op!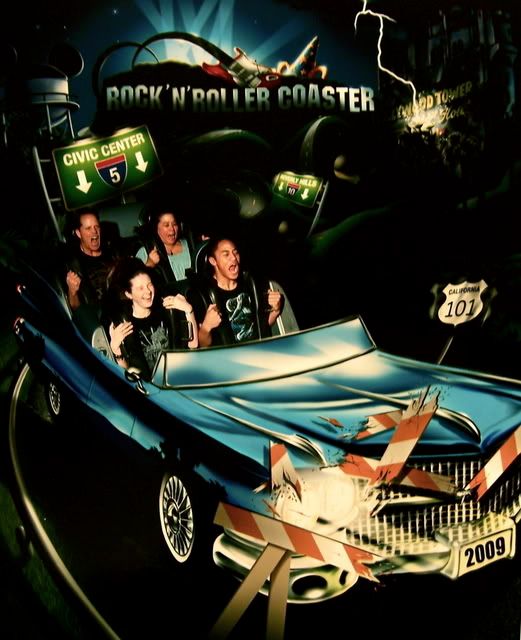 After we got off the rides, my mom decided that her knee was really giving her a lot of trouble, so the boys went to get her a wheelchair…which made the fourth wheelchair in the group. It was also the last wheelchair, which was fortunate because we were running out of people who could push!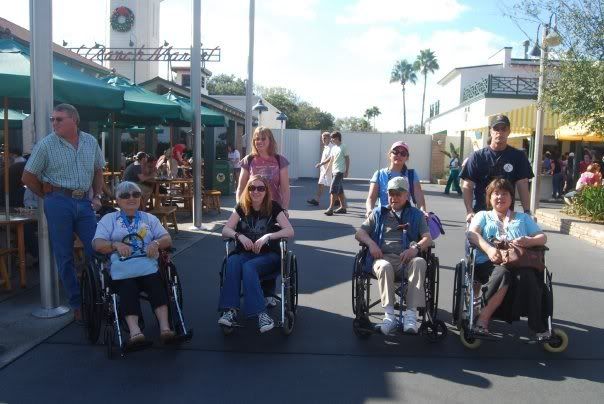 After we got everyone back together, I gave my mom, my grandma, and my two aunts pin lanyards, so that they could start pin trading. They like collecting things like that so I figured it would be a fun little distraction. Little did I know, it was to become a whirlwind obsession…(more on that later)…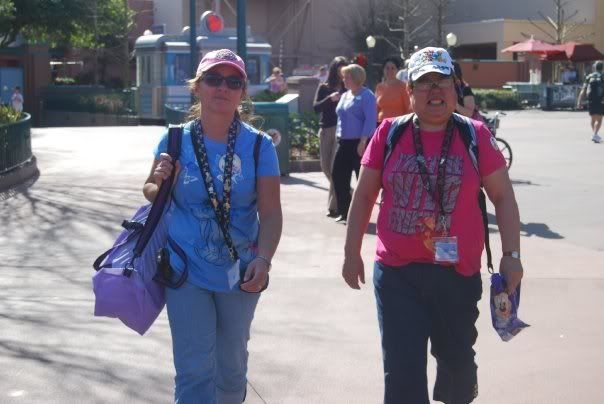 We split off from everyone at that point. We still hadn't ridden Toy Story Mania, but we had lunch reservations with Justin and Tracy at the Sci-Fi Dine-In Theater and we didn't want to be late. As we wandered away, we realized that it was really the first time we'd had alone together where we weren't sleeping. I'd like to say that we did something wildly romantic and talked deeply about our thoughts on marriage, but in reality we went and saw Muppet Vision 3D and then tried on all the hats at the gift shop. Good times.
Lunch at the Sci-Fi Dine-In Theater was AWESOME. I had never been there before and I was completely blown away when I walked in. The inside of the restaurant is just a big room with a tall ceiling and it's done up to look like you're walking around outside at a 50's drive-in theater at night.
There's a big movie screen playing clips and commercials of campy B movies and the tables are actually little cars that you sit in, 2 by 2. There are actual tables that you can get, but we hopped into a car, with Tracy and Justin sitting in the front and Kyle and I sitting in the back. It was sort of nice, actually, because we were able to chat and visit with them, but at the same time it was like being on a date with just the two of us.
I got a turkey sandwich and a cherry coke (and officially started to fall of the diet wagon) and Kyle got a Reuben (like he always does) and an alcoholic milkshake with a glowing ice cube in it. We had the give-us-free-stuff-bride-and-groom-hats on, so the waitress made a big deal and brought us a free sundae, which we couldn't even finish. I don't remember what Tracy and Justin got, but I know that everyone was happy and everything was delicious. Ah, it's a rough life at WDW…