Day Seven – Part Two
Schovy, Jed, Steve, and I took the monorail to the TTC and then caught the boat over to the Magic Kingdom. The monorail to MK is much faster, but Michelle had been desperate to get herself on a boat for her whole trip and the ferry across the lake made her very, very happy.
At MK, we met up with Kristen and Chris and ran around for a while, riding whatever we wanted. My big feat of the day was managing to get Schovy on the Haunted Mansion ride. The girl has a serious phobia of anything that may or may not be scary and the last time we rode the Haunted Mansion (Disneyland), the ride broke down right when we were in the middle of the graveyard area. I thought she was actually going to hop out of the doom buggy and take off on a blind run. Luckily, we made it through this time without incident (if you don't count the half-moon gouges her fingernails put into my arm).
I can't even give you a run through of everything we did because we flew through it, but we hit a whole lot of rides in a really short amount of time. Around the time that we hit up Pirates and the Jungle Cruise, Schovy and I split off from the rest of the group. This was the fourth time that I'd been at MK during the trip and Schovy used to go to Disneyland all the time when she lived in California last year, so we didn't feel like we were missing out by leaving early. The other four were still getting their fix, though, so we made plans to meet up with them later…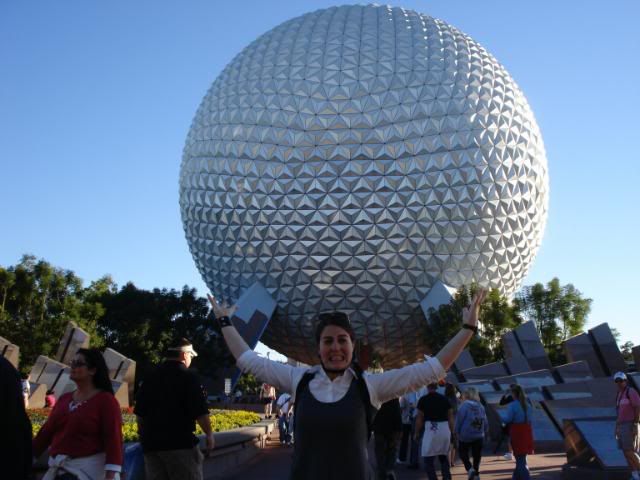 Schovy and I took the monorail over to Epcot to meet up with my family. Friday was their last day in the parks since they were leaving Saturday morning, so they were getting in their last round of pin trading and German beer. We met up with them at China, where my grandparents were happily engaging the sales staff in speaking Chinese. My uncle offered to buy me a dress for our Napa reception, so I ended up with the first authentic Chinese dress of my adult life…which you don't get to see until I blog about the Napa reception.
After we finished shopping, Kyle showed up. He and Jeff had split up and Kyle had gone back to the resort to pick up Kaitlyn, who hadn't spent any time in the parks with us. She'd had her face painted at some point, so when she showed up she was a niece of many colors…
Our caravan of wheelchairs, pin traders, and painted nieces slowly our way from pavilion to pavilion. Kaitlyn isn't very shy so after only about ten minutes of hiding, she started to warm up to my family and once they started giving her candy and Disney pins, she forgot about Kyle and I completely. Kyle was holding up a little bit better, it seemed. He was still pretty warm, but he'd had the chance to rest for a minute before he and Kaitlyn met up with us and he'd caught his second wind. Plus, since my family moves at the pace of a glacier, he didn't have to run around anymore.
Eventually, we all made our way to The Land pavilion, since they have the most diabetic and low-sodium friendly menu items. At this point, Kaitlyn had received a sucker and a smoothie from my mother, who was practicing the whole grandma thing, and I wasn't sure about her eating dinner. She's not the best eater in the world…when she's hungry she'll eat a ton, but if she doesn't feel like eating it turns into a major battle of wills.
When we hit the food court, she gravitated immediately to cookies and ice cream, which my mom probably would have indulged her with if I hadn't been there to be the bad, mean aunt. We got her one of those PB&J snack boxes instead, even though I was 99% sure there was no way we were going to get her to eat it. (I think the exact quote was "I don't WANT that…I HATE THAT")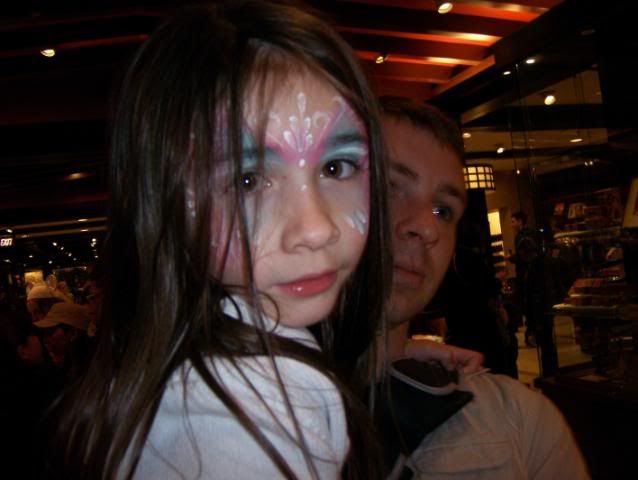 Luckily, the rest of us had gotten noodles and there was an abundance of chop sticks on the table when we sat down. Kaitlyn was pretty intrigued with the fact that we were all eating with sticks (Kyle and Schovy are quite good at chopsticks, actually) and it wasn't too long before she wanted to try. I'm not even sure how she did it, buy my mom managed to talk Kaitlyn into eating her entire box dinner with chopsticks. That kid happily snapped up piece after piece of that PB&J sandwich until there was absolutely nothing left. It's true we practically had to give her a standing ovation after she managed to get each piece to her mouth, but still…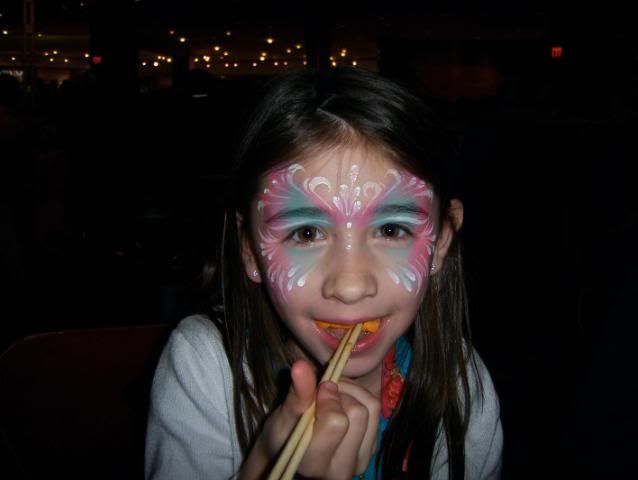 The plan had been to get to a place where we could see the fireworks before all the good spots were gone, but we left The Land with only ten minutes to go before Illuminations. My family just doesn't rush very well. There were lots of bathroom breaks, lots of wheelchair organization, lots of double-checking…by the time we got back to the show we only had a couple minutes left and the thing was PACKED. We ended up watching the show from a pretty bad spot and the people in the wheelchairs couldn't see much, which was really too bad. My grandfather was so impressed with the show, even though he couldn't see much of it…I really feel like he would have been blown away if he could have seen the whole thing.
After Illuminations, we started wandering up the other side of the pavilion, stopping in at the United Kingdom so Schovy could get her fill of British. I was worried that Kaitlyn would start to crash and get really whiny, because it was late and she'd been at the parks for almost the entire day, but she was pretty content to just ride around on my mom's lap on the wheelchair.
Eventually the group ended up at Japan because there was something my cousin wanted to buy. Kyle's parents met up with us to pick up Kaitlyn, which was lucky because she was starting to lose it over the fact that I wasn't buying her one of those oysters to crack open for the pearl inside. What can I say? I'm a mean, mean aunt. Don't feel too bad for her thought…before she left, my stepdad bought Kaitlyn a pair of her own chopsticks, so that she could go home and practice.
The park was really winding down at this point. Kyle and Schovy were both dragging along, but they were being troopers. We made it out of the world showcase slowly, stopping at each pin trading station and sampling the foods that hadn't been tried. Eventually we ended up back at The Land pavilion (we just couldn't get enough!) My family hadn't been able to ride Soarin' yet, since it was always so crowded, so we had really left it to the last minute. I think my family was actually pretty done at this point, but I was desperate to get them on that ride since they know all the places that are showcased.
A few of Kyle's friends met up with us, so we ended up being the group with 15 or 16 people. I was a little worried about my grandparents falling out of those little seats, but they were fine. Randy and Michelle took extra precautions when they buckled themselves in with the safety strap.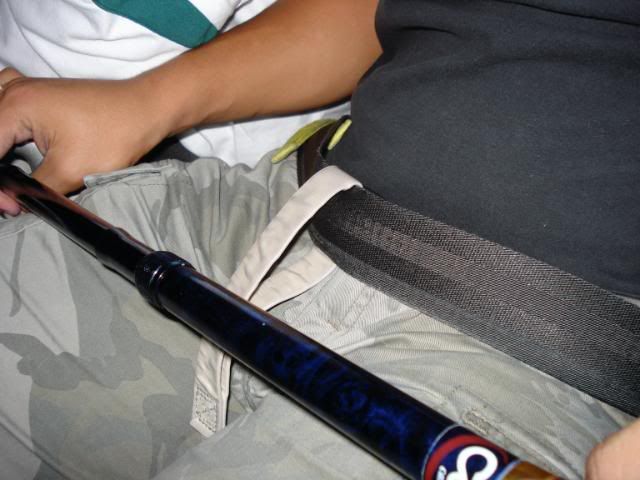 In the end, it was great that we stayed late to do it because my grandparents really liked it and were talking about it the whole way back. I know some people are iffy about Soarin' because it's not that thrilling and it does really depend on which seat you end up in, but I really like it. I just wish those lines weren't so long…
We made plans to meet my family for breakfast before their flight out and left them at the bus station. The rest of us hopped on the bus to Pop Century and ended up back at the resort right around 1 AM. What can I say? Kyle and I were pretty incapable of getting to bed before midnight for the whole week…and so, it was another super-round of antibiotics and fever reducers and then we collapsed into bed with only one more day to go…